The story of the four dots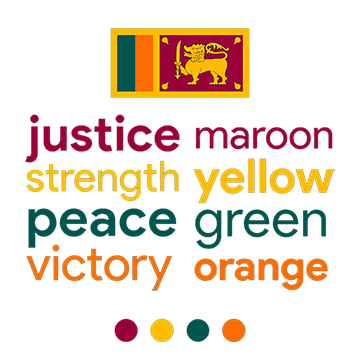 These were just four dots but I wanted to use these four little dots to show the world the unity of the people of Sri Lanka. Equality, justice, unity, and peace. I wanted to recover those fallen things again. The guys know me a lot from the branding-related designs. I wanted to add color to these people's struggles. Just show the world our own identity instead of just a black flag and a black dress. Do something everyone talks about. I chose these four dots for that. I did this using the color combination of the national flag of Sri Lanka to protect the identity of the people of our country. I used justice maroon, energy yellow, peace green, and victory orange in equal measure and at the same distances. The background color black was used to indicate manpower. I used these four dots as they show up on the 4th of April. Let us look at our national flag in a different way, which was divided into Sinhala column, Tamil column, and Muslim column. We see what it means to stand together instead of dividing. A lot of small things come together and big things happen in the world. From this little thing let us begin to think differently of the people for the sake of our brothers and sisters and for the sake of the country. Let's add color to our struggle. We wanted to show the meaning of the four dots of our unity. 
I love my country. I love the people of my country.
I do not have a country more valuable than this anywhere in the world.
Life changed because of the people of this country. If we want to recover, the people of this country must also recover. Our country must also escape from these problems. Let's work together on that.